CUSP Institute videos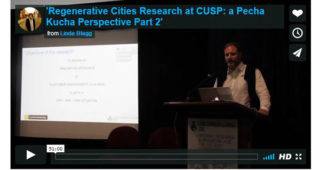 Our video channel provides a broader insight into what we do and how our researchers are helping move towards a more sustainable future.
News
This course introduces a strong emphasis on research to effectively respond to the emergency we are living now by taking action to address the younger generation's demand. Students will be exposed to real world practice and challenges through favouring familiarisation with researchers, industry and local governments' to build knowledge and skills to contribute environment and climate solutions.
Meet our Director
Professor Greg Morrison has been the Director of CUSP since 1st July 2018. He is the professor in sustainable cities and has a long experience in academic leadership. Greg has successfully initiated and run large scale societal infrastructure related projects, with the most recent being a smart cities energy and water peer to peer trading project in Fremantle.