CUSP Institute videos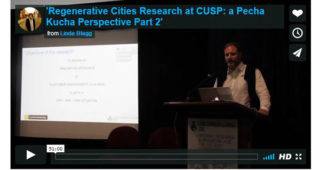 Our video channel provides a broader insight into what we do and how our researchers are helping move towards a more sustainable future.
Recent News
The Australian Agreement
Readers are encouraged to use this summary of what would be required if Australian governments, industry and householders were going to fulfil the requirements of the Paris Agreement. It sets targets and enables updates. It was developed by Dr Hugh Finn and Professor Peter Newman from Curtin and Professor Bill Hare and Professor Ursula Fuentes Hutfilter from Murdoch. If Recovery is to be consistent with our Paris commitments then the next economy must build the Australian Agreement into every program and project.
Meet our Director
Professor Greg Morrison has been the Director of CUSP since 1st July 2018. He is the professor in sustainable cities and has a long experience in academic leadership. Greg has successfully initiated and run large scale societal infrastructure related projects, with the most recent being a smart cities energy and water peer to peer trading project in Fremantle.