Regenerative cities national forum
On 23 May 2017 CUSP hosted the Co-operative Research Centre for Low Carbon Living Regenerative Cities National Forum. At this forum, Professor Herbert Girardet, offered a global perspective on the Regenerative Cities movement.
Professor Herbert Girardet
Professor Girardet's keynote presentation was followed by the latest findings from CUSP researchers who presented on low carbon – transport, housing, energy, biodiversity and lifestyles.
Researchers presented their work in Pecha Kucha format (20 slides, 20 seconds per slide).
Presentation videos
Click the buttons below to view videos of the keynote speech and Pecha Kucha presentations:
View 'Part 1: Regenerative Cities'
View 'Part 2: Regenerative Cities'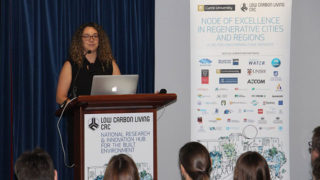 Why was this forum important?
Current cities are unsustainable due to their heavy dependence upon fossil fuels and high levels of consumption. This is exacerbated by high levels of population growth. However, the world is also rapidly urbanising and if we can create sustainable cities we can reduce global environmental impact. The recent endorsement of the New Urban Agenda (December 2016) by the international community represents a global consensus on the need for more sustainable and liveable cities. The New Urban Agenda is supported by the more general international sustainability policies such as the Paris Agreement (COP21) and the Sustainable Development goals.
The regenerative cities agenda is in alignment with, and goes beyond, these three important international policies, but, no large regenerative city exists. The research from CUSP is important as it investigates ways that regenerative urban environments could be created.
The forum was framed by the background paper Making cities work for people and planet. Forum participants were invited to respond to the paper and discuss ways of initiating:
an environmentally enhancing, restorative relationship between cities and the natural systems they depend on;
the mainstreaming of efficient, renewable energy systems for human settlements across the world; and
new lifestyle choices and economic opportunities which will encourage people to participate in this regenerative transformation process.